Vertical Conveyor Systems Ohio
One of the Best Conveyor Solutions When Square Footage is in Short Supply
Easily move materials upward and downward with a vertical conveyor system and save space while doing it.

Over 60 Years
Of combined experience with conveyors


One-Stop-Shop
For Custom Conveyor Solutions & Parts
No one likes waiting for a slow elevator… especially if you're moving materials.
Waiting for a regular elevator to move materials is slow and inefficient.
And employees physically carrying products or equipment on the stairs can risk injury and package damage. Vertical conveyors solve a variety of problems while handling multiple materials, including (and not limited to):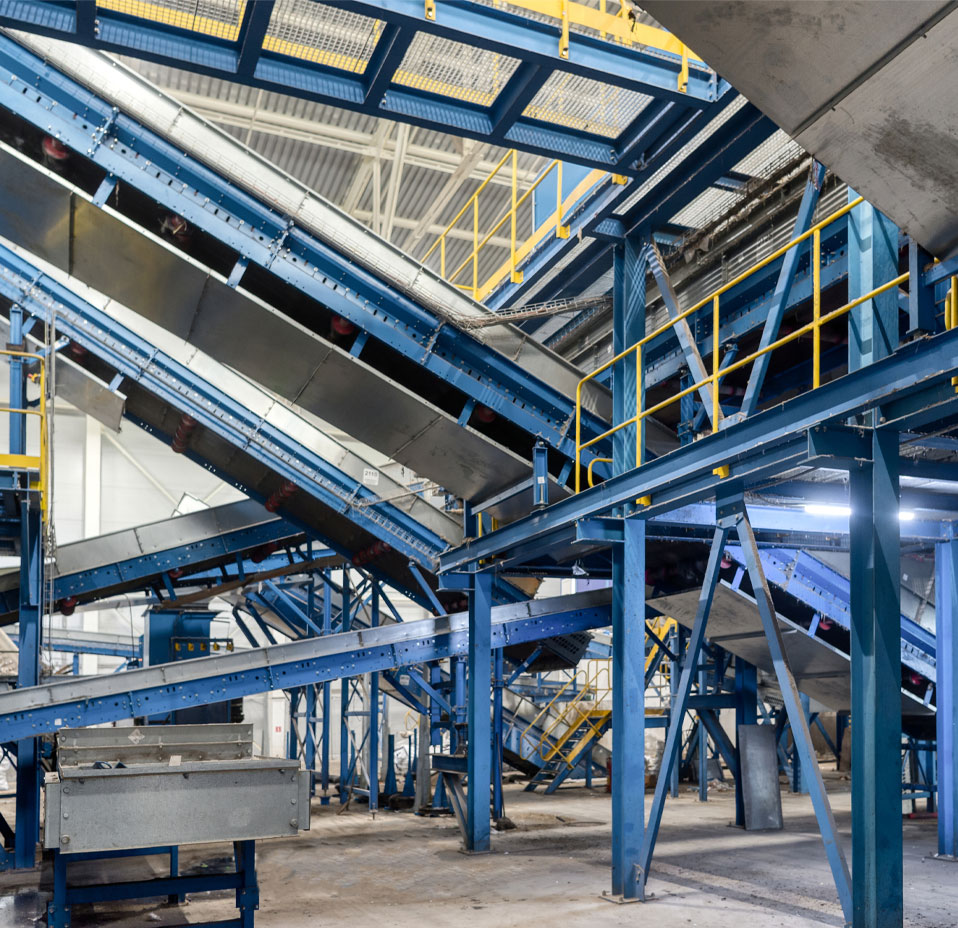 We know you have to maximize square footage and production line capacity to be successful.
We can create a custom vertical conveyor system that solves these problems and more.
Not all warehouses are the same, which means they need custom solutions to move materials. Depending on the situation, vertical conveyors can be heat and chemical resistant as well as made of stainless steel. Some common types include:
Vertical reciprocating conveyors
Vertical Conveyor Systems Rise to Every Occasion
A cost-effective, easy way to move materials upward or downward via inclining or declining belts, or bucket elevators
Used for moving boxes, containers, packages, bags, trays or agricultural products like grain, vertical conveyors automatically move items between two or more levels
Great for operations with limited space, a vertical conveyor creates a small footprint which saves valuable floor space
Stainless steel conveyors are heat and chemical resistant, easy to clean, and customizable
Bucket Conveyors
Bucket conveyors are built for moving high volumes of material yet to be packaged for shipping. These systems move everything from produce to pharmaceuticals.
Vertical Reciprocating Conveyors (VRCs)
VRCs are sometimes referred to as freight elevators or industrial lifts. Since these lifts are devoted only to materials, they do not have to abide by elevator codes designed for passengers. Vertical reciprocating conveyors can make for quick movement of a variety of materials, both upwards and downwards.
Other Types of Vertical Conveyors
Spiral conveyors often use belts and rollers. While spiral conveyors are used for a variety of materials, vertical screw conveyors are best for moving bulk materials as they continue through warehouses.
Save Money & Free Up Storage Space
Not only do these vertical systems reduce downtime and the threat of workers' compensation payouts, but they reduce the need for space. Larger, horizontal systems take up more floor space ultimately costing more money.
Three Simple Steps to Take the Guesswork out of Your Conveyor System Needs

Contact us to Order
Call us to speak with one of our experienced conveyor specialists. We will assess your needs and get to work designing a vertical conveyor system that meets your space requirements and materials handling needs.

Delivery
We oversee installation of your custom conveyor system to make certain it meets your needs and exceeds your expectations.

Make a Plan for Maintenance
After we know you're completely happy with your vertical conveyor system, Capital City Conveyor & Supply can help build out a conveyor equipment maintenance program to keep your system operating in peak condition and your supply of vital replacement parts replenished.